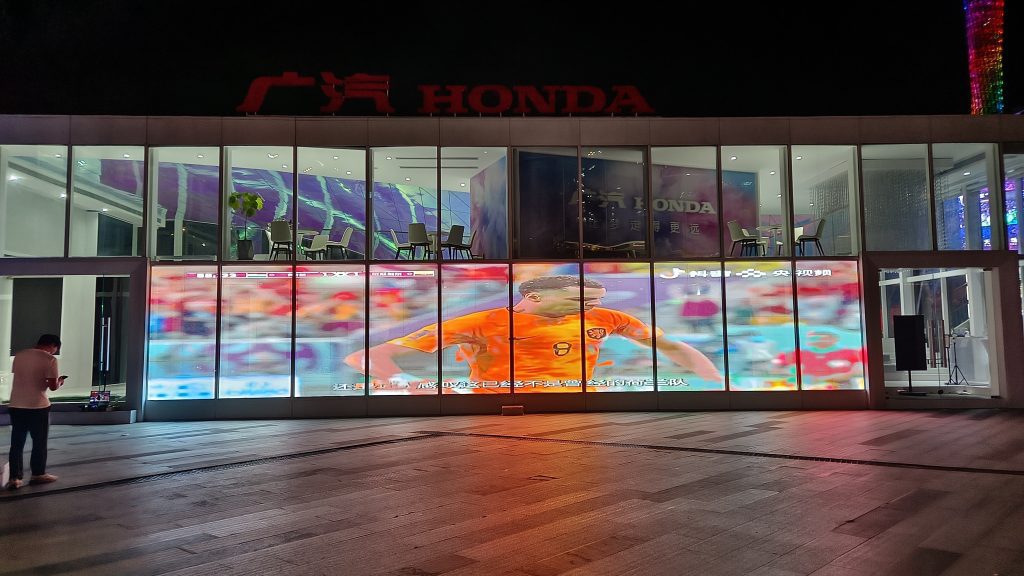 In the dynamic world of technology and visual innovation, LED displays have emerged as a revolutionary medium, transforming the way we perceive and interact with information. From bustling cityscapes to immersive entertainment venues, the application field of LED displays has expanded exponentially, offering a versatile canvas for creativity and communication. As we delve into the diverse applications of LED displays, we will also explore the groundbreaking development of transparent film LED displays, a disruptive technology that has redefined the boundaries of visual communication.


Understanding the Wide Application Field of LED Displays
---
The application field of LED displays spans across various industries and sectors, each harnessing the power of this technology to achieve specific goals and engage with their audiences in unique ways.

1. Advertising and Marketing:
In the realm of advertising and marketing, LED displays have become an essential tool for creating captivating and dynamic campaigns. Whether it\'s large-scale outdoor billboards or interactive indoor displays, LED technology enables businesses to grab the attention of their target audience and deliver messages with maximum impact.

2. Entertainment and Events:
The entertainment industry has fully embraced the immersive potential of LED displays. From concerts and live performances to immersive theme park experiences, LED screens have become integral to creating mesmerizing visual backdrops, enhancing storytelling, and captivating audiences in a whole new way.

3. Retail and Hospitality:
In the retail and hospitality sectors, LED displays serve as powerful tools for enhancing customer experiences and driving engagement. Whether it\'s creating captivating in-store displays or providing informative and interactive wayfinding systems, LED technology elevates the overall ambiance and functionality of these spaces.

4. Information and Education:
LED displays have also found a significant place in the realm of information dissemination and education. From informative digital signage in public spaces to interactive learning tools in classrooms, LED displays facilitate the seamless sharing of knowledge and engage audiences through visually appealing content.

The Birth of Transparent Film LED Display

Amidst the continuous evolution of LED display technology, the emergence of transparent film LED displays has ushered in a new era of possibilities, challenging conventional notions of display design and functionality. This groundbreaking innovation has opened up new avenues for creativity and communication, particularly in environments where transparency and aesthetics play a crucial role.

1. Enhanced Aesthetics and Design Integration:
One of the key advantages of transparent film LED displays lies in their ability to seamlessly blend with their surroundings. Whether it\'s architectural integration in modern buildings or creating visually striking installations, transparent film LED displays offer a harmonious balance between functionality and aesthetics, transforming spaces into captivating visual experiences.

2. Unobtrusive Communication:
In settings where preserving the integrity of space is essential, transparent film LED displays offer a solution that allows for unobtrusive communication. By maintaining transparency while delivering essential information or engaging content, these displays enable businesses and organizations to communicate effectively without compromising the overall ambiance of the environment.

3. Versatile Applications in Retail:
Transparent film LED displays have found a particularly exciting application in the retail sector, where the emphasis on creating immersive and interactive shopping experiences is paramount. These displays enable retailers to showcase products in a unique and engaging manner, providing customers with a dynamic and informative shopping experience that seamlessly integrates digital content with physical products.

4. Architectural Innovation:
Architects and designers have embraced the creative potential of transparent film LED displays to reimagine the possibilities of architectural design. From futuristic building facades to immersive interior spaces, these displays have become an integral part of creating visually stunning and technologically advanced structures that redefine the boundaries of conventional design.


The Future of LED Display Technology
---
As we continue to witness the evolution of LED display technology, it\'s evident that the application field will only continue to expand, driven by innovations that push the boundaries of what\'s possible. The seamless integration of transparent film LED displays into various environments serves as a testament to the transformative power of this technology, paving the way for a future where visual communication is not only effective but also aesthetically pleasing and harmoniously integrated into our surroundings.

In conclusion, the application field of LED displays spans across diverse industries, revolutionizing the way we communicate, entertain, and interact with information. The introduction of transparent film LED displays has further enhanced the creative possibilities within these industries, offering a seamless blend of technology and design that elevates the overall experience for both creators and audiences. As we look ahead, it\'s clear that the future of LED display technology holds endless potential for innovation, creativity, and immersive visual experiences that will continue to shape the way we perceive and engage with the world around us.