There is undeniable growth in tech and science, and it's safe to say that an LED display screen is one of the brainchildren of this technology. In the past few years, green screens have supported the growth of  VR, but the virtual LED display has revolutionized extended reality as well as virtual production. Virtual LED displays bring 3D tech innovation in lighting and effects, which can be easily managed while promising better gains in the content. So, this article will share the iDisplay virtual LED displays and how they have become an absolute hit on a global scale.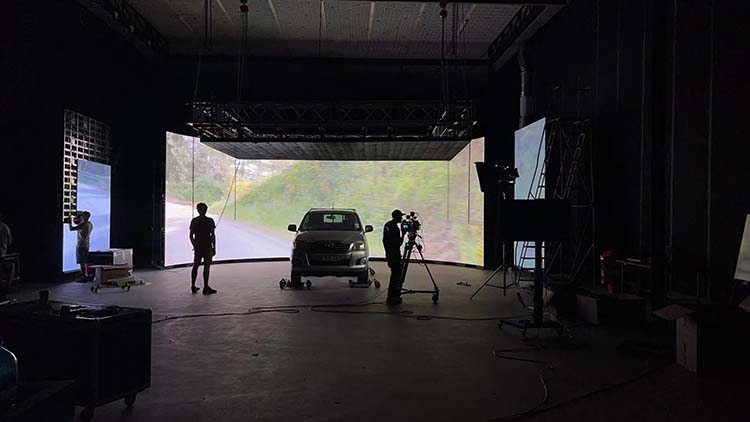 iDisplay Projects – the Most Popular Projects Around the Globe
iDisplay is known to design and manufacture LED displays for virtual production, retail, traffic signs, and DOOH. Some of the best-known products from iDisplay include custom LED displays, LED posters, unreal LED walls, outdoor LED display boards, indoor LED displays, and traffic signs. The virtual LED display XR screen ImmerSiv Pro recently became a hit in the South African market. Here are some details about the this product.
● "XR Screen ImmerSiv Pro" project in South Africa
iDisplay completed this project in South Africa with the internal configuration of 4 layer PCB, HWA power supply, Nationstar gold, MBI5264. This screen had a 110 sqm size, and the FPS rate ranges from 23.98Hz to 244Hz, which varies with the requirements. On top of everything, its color gamut includes 90% of REC2020, 99.8% of REC709, and 95% of DCI-P3, which changes with the application, ranging from film production to advertising.
This screen technology has a smart module that helps save the calibration data and is supported by HDR. On top of everything, it has a 22bit higher color depth and a refresh rate of 7680Hz. For the most part, this technology has caught the attention of Apple TV and Netflix.
Why does iDisplay ImmerSiv Pro attract so much attention, and how does it differ from other displays on the market? Let's find out the reasons below.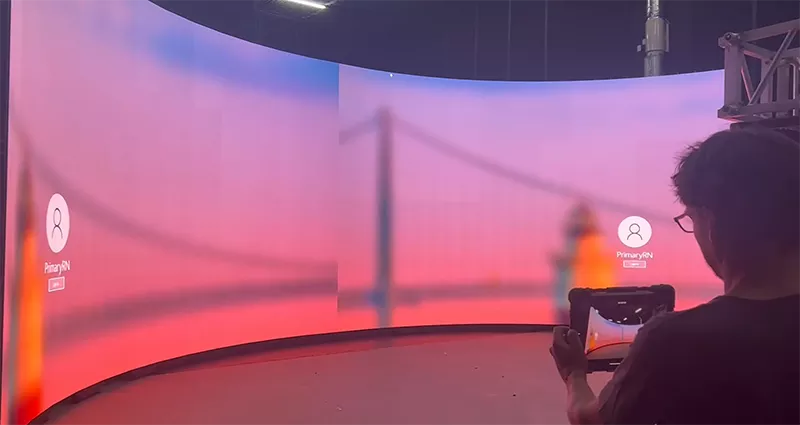 The Features of Virtual LED Display from iDisplay?
1. Compatible and Flexible
The virtual LED display is designed as a flexible yet highly powerful LED display with a light and slim body. It is integrated with powerful compatibility, and its free layout promises seamless design. The virtual LED display has the same module in a pitch for both straight panels and horizontally curve-able panels, so it works in convex and concave form.
2. Easy Installation and Maintenance
Unlike other LED displays, the XR screen ImmerSiv Pro is very easy to transport, install and maintain. No need custom truss for ground stacking. What's more, no matter the smart vertical latch or the easy access for all parts, they are designed for easy and quick installation.
3. Durable
iDisplay has always known that a quality virtual LED wall is not only about the LED display screen but also about the chassis and handle behind it. XR screen ImmerSiv Pro has a high-definition screen, a compatible system, and a 2.2-ton breaking point chassis, better than the average products in the market. In addition, the front and rear frames are made of die-cast aluminum and magnesium alloy, making them more durable.
Why iDisplay Is a Trusted Display Manufacturer?
When it comes down to virtual LED displays, it's important to choose the right LED screen manufacturer to achieve the right results. And our iDisplay is one of your best choices. Given the following points;
● Strong R&D Capability
Our company has a powerful team of engineers who constantly works together in the research and development arena to launch new virtual LED displays that cater to the client's unique needs and production.
● High-Quality Products
The products are known as zero-failure products as iDisplay uses the highest quality standards in all the components. In addition, we use cutting-edge technology that delivers reliable results.
● Provide Customized Services
Ranging from ODM to OEM, we offer customized services to the users to meet the unique content production needs of the filmmakers.
● Perfect Pre-Sales and After-Sales Service
Once you purchase the displays from iDisplay, we provide top-notch and highly reliable after-sales and pre-sales services to make sure your queries are catered to.
iDisplay Promises Constant Innovation:
iDisplay is one of the most professional and reliable LED display supplier and have served different fields, industries, and regions. In addition, we provide corresponding solutions to meet the different needs of the customers, hence their constant drive for innovation.
Virtual LED displays have become a captivating and reliable form of producing content because they have an incredible range of display technologies available to create futuristic content using minimal resources. Visit our website today to find out the most suitable LED display you need! https://www.idisplayled.com/