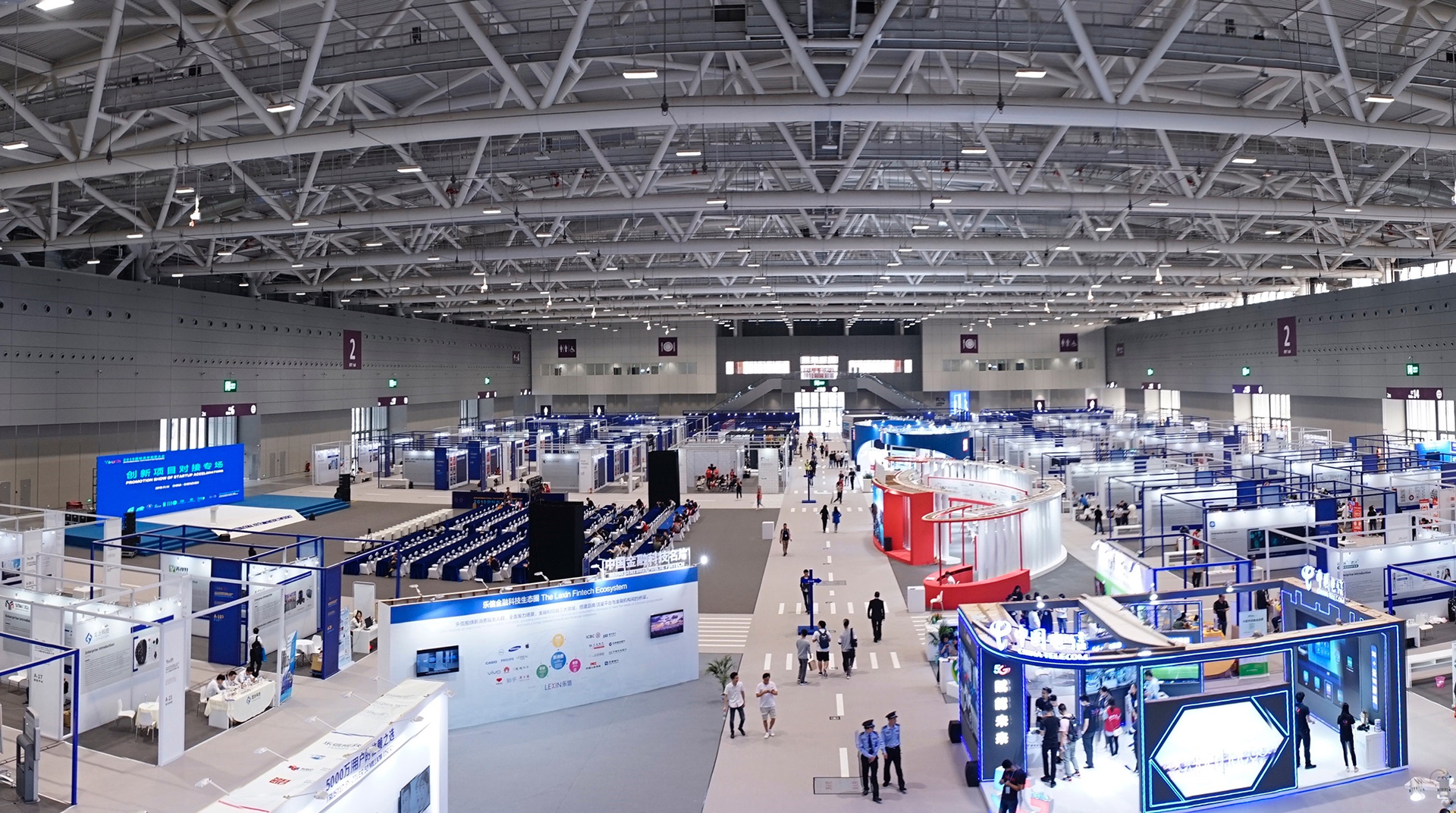 Backlit trade show LED displays draw attention to your Immersive Trade Show Booths as no other exhibit can. Add atmosphere and stand out from the competition at your trade show booth, retail store, lobby, school, or marketing event.
LED video wall is a low-maintenance, cost-effective, and flexible solution for exhibitors.
What Types of LED Displays Are Used at a Trade Show?
Professional Commercial Solutions
The commercial Solutions is a modular design of LED video panels that forms an LED wall, providing unlimited scalability and unique design potential, which can be seamlessly integrated into the exhibition booth design. The LED wall presents a dynamic and seamless image, often used in trade show booth backdrops.
IDISPLAY offers Gshelf series and Tetris series dynamic LED video commercial display solutions, including ultra-fine pitch and curved LED displays designed to complement any booth design.
IDISPLAY LED video panels are available in three directions: hang, floor and wall mounted. They are cost-effective, of no inferior quality, and supported by industry-leading warranty and technical teams.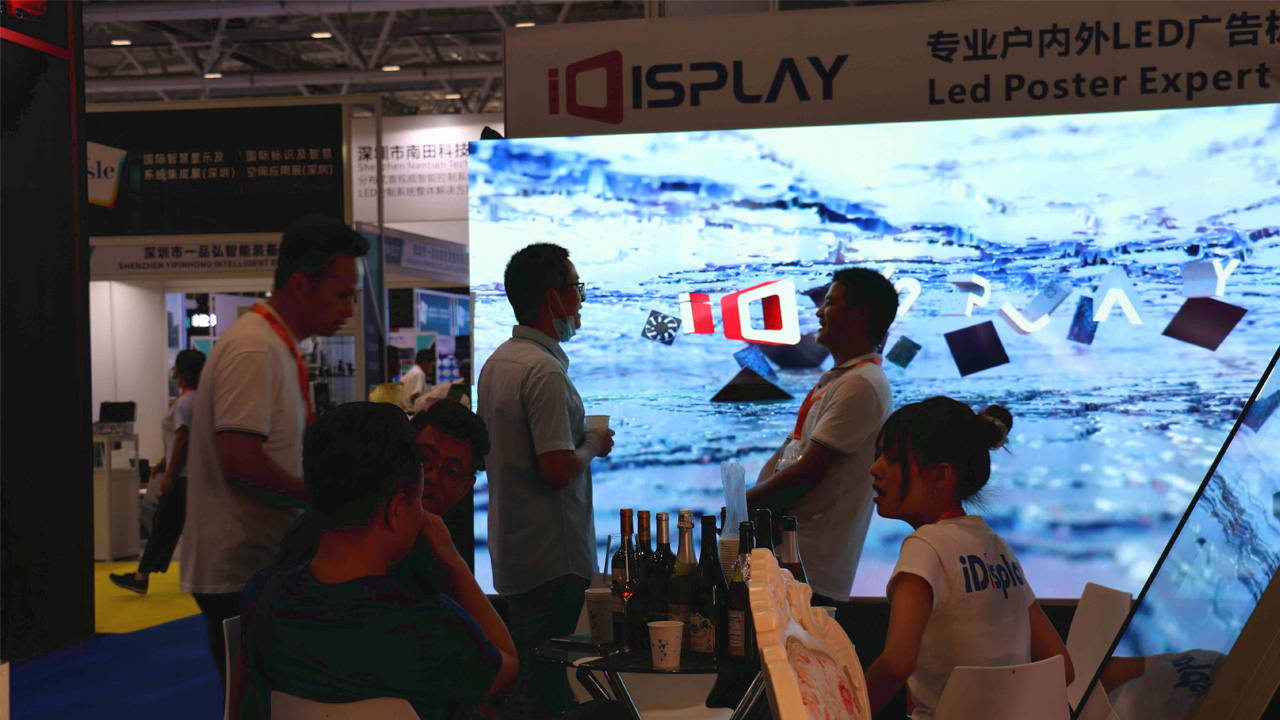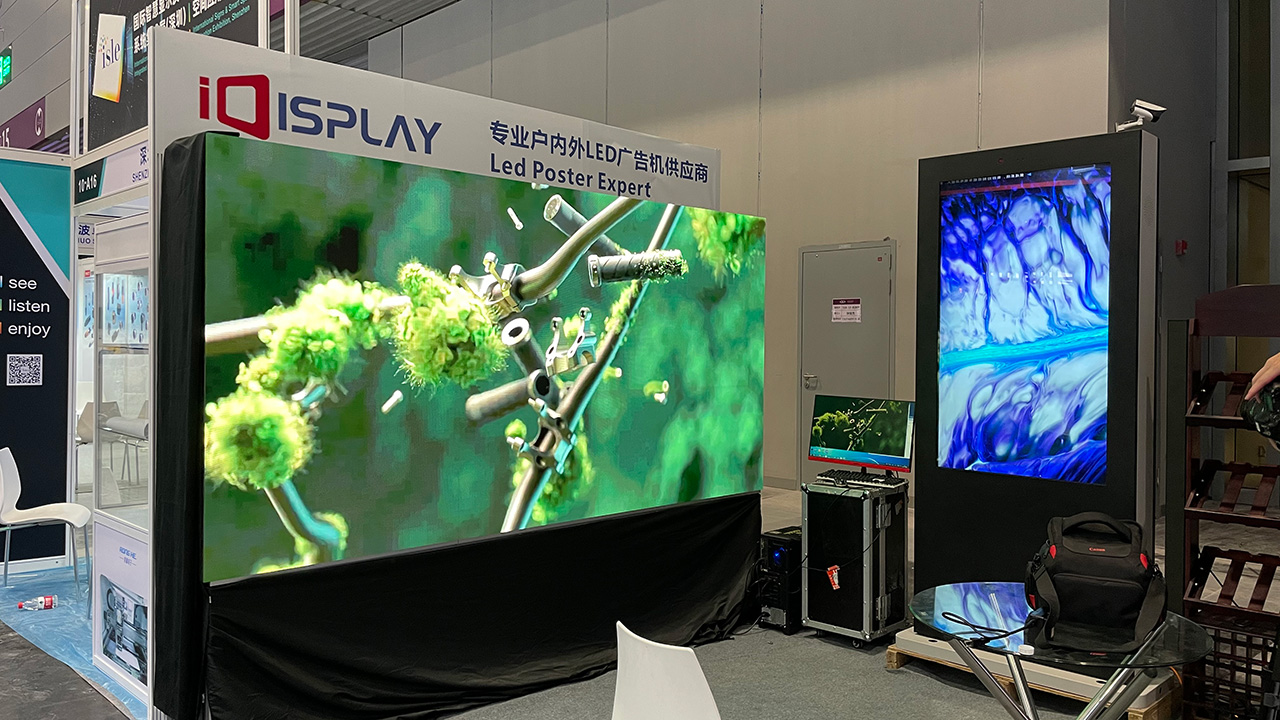 Portable Solution
If the budget is limited, we recommend the advertising machine which is portable and movable, without installation easy operation. Portable trade show displays: LED Poster iPoster series also an all-in-one LED display.
There are two versions of this iPoster seires.

iPoster V1.0 due to the entire product being only 33mm thick and weighing 28kg, is easy to install and transport and can save space, freight, and manpower during installation.
The frameless design is to ensure that multiple components can be seamlessly connected together.
iPoster V2.0 is bases on V1.0 upgrade the under the base add sheave, also in order to increase stability, the v2 base has more weight.
Touch Screen Displays Solution
iConference series is touch screen displays for trade shows, World's thinnest 27.8mm large LED screen enclosure. Die-cast aluminum structure, transportable & fixed options.
95% screen-to-body ratio. 100 to 800 nit adjustable brightness. Point-to-point full-screen calibration for best uniformity. HD/UHD resolution options.
IDISPLAY specializes in providing LED video solutions for trade fairs, exhibitors, and exhibition halls. Our LED video consultants have a keen understanding of the exhibition, can fully understand your booth design needs, and help you develop the most suitable solution for your application.
Booth Banners LED Ticker Display
Booth Banners use IDISPLAY LED Ticker Display that can be used to display custom scrolling or static messages. Keep your customers' attention by sharing up-to-the-minute information. HD LED Ticker Display Message Board, synchronous vivid display.
Extremely easy to install with it's magnetic back and inter-connecting modules it is perfect to fit into almost any environment with stunning results.
An Electronic LED Ticker display is a great way to attract attention while communicating useful and timely information. Your information and scrolling Ticker updates will attract and hold your customers' attention, whether they are passing by, waiting in line, or sitting down to discuss your products and services.
Why Use LED Displays at Trade Show Exhibit?
Dynamic display of exhibition product advertising videos help you stands out in the trade show booth. By using LED display devices in booth, you can design videos with interactive effects. Creative content attracts the attention of potential customers.
Eye-catching when passing your booth, stay for a time, and create more opportunities for business cooperation.
Exhibitions with the same theme are bound to encounter similar products, the LED display can make you out of the ordinary become the focal point.
In the meantime, you also have a more space to show your unique characteristics. Make your more memorable.
When the reception is not available, or too busy, an LED display device can autoplay the audio and video materials prepared in advance, your product will be excellent explanations in an all-around way without wasting extra manpower. Energy is more efficient.
Appropriate LED Display design can also complete functions such as Guided transformation, etc.