LED ticker displays have become a staple in many industries, from sports to finance. These dynamic displays offer a unique way to convey information and are an effective tool for grabbing attention. In this article, we will explore how LED ticker displays are used in different application scenarios, including sports and finance.

LED Ticker Display Sports
Sports fans love to stay up-to-date on the latest scores and statistics, and LED ticker displays are the perfect solution. Whether at a stadium, arena or even in a sports bar, these displays provide real-time updates on the game, giving fans an edge on the competition. The displays can be customized to show scores, stats, and other relevant information, such as player statistics, leaderboards, and live updates. LED ticker displays are also a great tool for sponsors and advertisers, as they provide an eye-catching platform to showcase their brand. These displays can be integrated into the stadium's existing infrastructure, allowing advertisers to reach a large audience with their message. With LED ticker displays, sports fans will never miss a beat and advertisers can reach their target audience in a dynamic and engaging way.
Stock Ticker LED Display
In the finance industry, LED ticker displays are used to keep track of stock prices and other financial information. These displays are commonly found in trading rooms, stock exchanges, and financial news studios, providing real-time updates on the stock market. With the fast-paced nature of finance, LED ticker displays offer an efficient way to keep track of market trends and other important information. Investors, traders, and financial professionals can monitor market trends, track their portfolios, and make informed decisions with the help of LED ticker displays. These displays can be customized to display specific information, such as stock prices, news headlines, and market summaries. The displays can also be integrated into existing financial systems, providing a seamless and streamlined experience for investors and traders.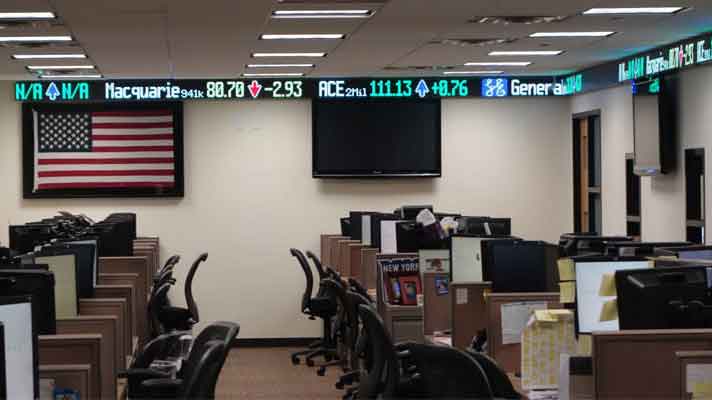 LED ticker displays
 are a versatile and effective tool for a variety of industries, from sports to finance. These displays offer real-time updates and a dynamic platform for advertisers and financial professionals. Whether you are a sports fan or a finance professional, LED ticker displays provide an exciting and engaging way to stay informed and make informed decisions.