The Needs of the Times
With the rapid development of network information technology, Internet technology has had a profound impact on all aspects of human social life. Facing the information environment of social and economic globalization, internationalization, networking, and digitalization, libraries must strengthen the construction of digital information resources in order to truly realize network information exchange and share resources。
Features of Library LED Displays
With its advanced technology, relatively low price, large screen size, and high display quality, the library LED display is well suited to meet the needs of information display in libraries.
Applications for Library LED Displays
Various library announcements, cultural communications, press releases, holiday greetings, welcome messages for guests, etc.
Can replace the banner at the front door
libraries often in front of the main entrance to hold related services publicity activities, and various ceremonies, the use of a full-color LED screen instead of the library banner in front of the main entrance, you can quickly and easily adjust the relevant content at any time according to the content of the event, and does not require manual operation of staff, in the background production can be played, in this way, not only to save materials and production costs, but also to save This not only saves on materials and production costs, but also on labor. The materials can be produced with background images related to the theme, and the text can be arranged in any serious, warm or cheerful style.
The LED screen in the foyer plays an important role in daily operations, replacing many traditional modes of publicity and providing readers with information such as admission instructions, guides to using the collection, training information, the latest notices and announcements. Different display forms can be designed according to different themes, for example, notices and announcements should be simple and eye-catching, either in red letters on a black background or in yellow letters on a red background, and should be intuitive as the first element; instructions for admission and guides can be designed in a warm and beautiful way, with backgrounds or icons, and can also be played in the form of animation; notices of activities can be designed in a lively way to stimulate readers' enthusiasm.
Reading room guidance screens
provide readers with guidance on the collection and temporary notices in each reading room, making the guidance information clearer and more eye-catching.
In place of the commonly used cueing signs
common cues such as "Silence your mobile phone" and "No smoking" can be played in the form of beautiful and creative pictures with humanized language. The message can be played repeatedly on the display.
When it comes to holidays or special festivals, you can design beautiful festival blessing pages, such as "Spring Festival", "Dragon Boat Festival", "Mid-Autumn Festival", and "National Day "This allows readers to fully feel the warm and friendly atmosphere in the library and the humanity of the library management.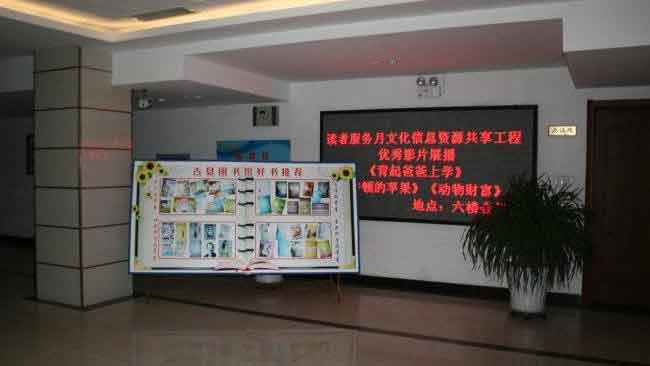 The future of LED displays in libraries
Faced with the information environment of social and economic globalization, internationalization, networking, and digitization, as a library we must strengthen the construction of digital information resources in order to truly achieve network information exchange and resource sharing.
Conclusion
It is feasible for the library LED display to be used on a large scale, which not only enriches the form of information delivery and expands the content of information delivery, but also makes it more convenient for readers to obtain information and make use of information more directly, and also plays a good propaganda role for the library and improves the efficiency of the library.