There is no doubt that LED screens can be transparent now. And it has been widely used in glass curtain wall buildings, brand chain stores, stage art, automobile 4S stores, large shopping malls, and other fields; Compared with the OLED transparent screen, the LED transparent screen is more suitable for large application scenarios with an area of more than 5 sqm due to its relatively low cost, luminous light source, and long-distance viewing, while the OLED is more suitable for mobile phones, wearables, virtual production, and other fields。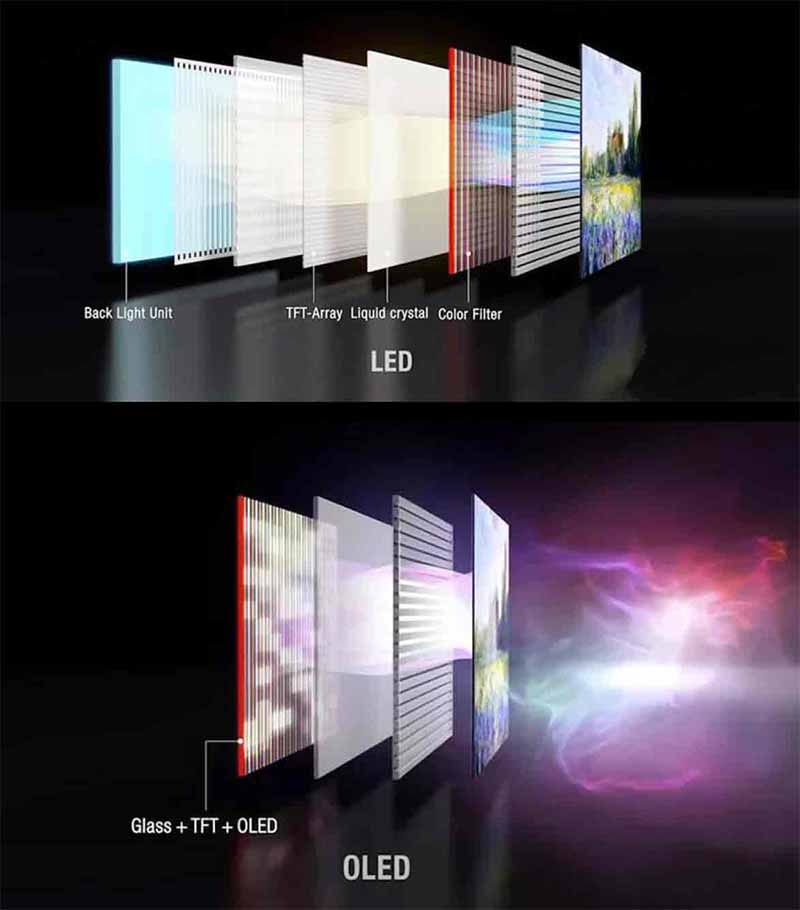 How do transparent LED screens work?
LED transparent screen and OLED transparent screen have some differences, we can learn how transparent LED screen works from these tips:
• The light-emitting principle is different
The transparent LED display is an inorganic light-emitting screen, which is dominated by the light on and off, so as to realize the display screen of various information such as text, graphics, images, animation, video, and video signals; OLED is an organic light-emitting screen, organic light-emitting diodes, through The current drives the organic film itself to emit light, and the emitted light can be red, green, blue, white, etc. monochrome, thereby achieving a full-color effect.
• The display effect is different
LED transparent screens rely on controlling the light transmitted by the backlight to display images, and are inherently insufficient in terms of color performance, contrast, response speed, and viewing angles. The contrast ratio of the OLED transparent screen can be infinite, which improves the contrast and image quality performance, and there will be no light leakage even under the black field.
• Product cost is different
The cost of a single OLED transparent screen together with the installation cost is more than 100,000 yuan. For a large-scale exhibition project, it is often millions to tens of millions. The LED transparent screen single screen together with the installation cost is about several thousand to tens of thousands, which is relatively cost-effective.
• Different viewing distances
OLED has a small pixel pitch, ultra-high-definition picture, complex processing technology, and high requirements. When no light is emitted, the pixels are also transparent, which is suitable for close-up viewing. LED transparent screen, large pixel pitch, high-definition picture, hollow processing, relatively simple processing technology, suitable for long-distance viewing.
• Different application fields
Transparent LED screen is a large screen display, at least 5 square meters or more. It is suitable for glass curtain wall buildings, brand chain stores, stage and stage beauty, automobile 4S points, large shopping malls, and other fields; OLED is currently very suitable for use in small and medium-sized panels, currently in mobile phones, wearable products, VP, and other fields.
Through the comparative analysis of LED transparent screen and OLED transparent screen, it can be known that the two are mainly used in different fields, and the cost difference is also large. Users can choose more suitable products according to their own display needs. If the glass curtain wall or stage, LED transparent screen is more suitable. In the field of mobile phones or VR, OLED is undoubtedly the best choice. With the continuous development of transparent screens, the future commercial display market is promising!
Is it possible to make transparent touch screen panel?
1. Projection
The projection equipment is equipped with imaging film and touch components so that the projected image can be directly presented on the transparent glass screen.
The picture is transmitted to the projector through the industrial control host, and the picture projected by the projector is accurately refracted on the beautiful transparent desktop of tempered glass through the light refractor. Through the touch film system, we can achieve transparent operation.
2. OLED
OLED transparent touch all-in-one machine.
Where can I buy flexible and transparent LED displays?
Screen dimension: 6*3m
Installation location: China
Project: IDISPLAY iTransparent series P3.9 * P7.8(What is pixel pitch?)
When our customer reach on site, the goods are not loaded yet and the main power and data power is not ready we helped the technical team and do unpacking and cabling to save the installation time.
Where can I find LED screen?
IDISPLAY is a professional LED display manufacturer, that provides retail and DOOH LED Digital Signage solutions and a rich experienced team backup with passion, sincerity, and responsibility to support our customers。 We focus on the overseas market, iDisplay screens were exported to overseas markets while 90% were shipped to Europe and America including countries and areas such as the UK, France, Finland, Spain, Portugal, Italy, Russia, Poland, Turkey, Germany, and The USA.