It is rightly said that the actions speak louder than words, and probably, that's why the digital wall displays manage to turn more heads around in the streets than those who pass by a sign that has empty written letters on them. The power of attraction that the video wall digital signage can create has not only captivated the people's attention, but at the same time, it has also generated an immense amount of revenue for the advertising firms intuitively.
With technology evolving at lightning speed in the past three decades, it's no wonder that the digital wall displays have become landmarks for their outstanding big screens that provoke a larger-than-life response in the minds of the beholders worldwide. Meanwhile, iDisplay's LED displays project also stood out. Let's take a look at these excellent displays.
The New Digital Wall Displays of the SM Company in Korea
Speaking of digital wall displays, Seoul's Gangnam District appears to have the mightiest LED wall display in town. An enormous wave has put on a mesmerizing view of South Korea's biggest video wall digital signage exquisitely projected on the SM Town's COEX building, proving its success by popping up for precisely one minute every single hour.
The masterpiece depicts a wild wave about to crash all over the viewer's head from a gigantic glass aquarium in an unbelievably realistic two-dimensional display. It is flawlessly captured on a SMART LED Signage screen, which is 81m wide and 20m high with a total area of 1620 square meters, that breathes life into this anamorphic phantom with a 7840×1952 ultra HD resolution.
After 3-months of technical designing, the project took 4-months conclusively to combine this aesthetic influence. It was deservingly showcased on a 262 by 66 feet video wall digital signage, which normally features K-pop idols and other internationally famous brand commercials. [1]
The Spectacular 350-Foot LED Wall at Times Square
While talking about the digital wall displays, here comes the New York One Times Square. It is undoubtedly one of the most expensive places to run a commercial worldwide.
While keeping all these facts aside, it has introduced a unified north wall electric billboard 350 feet high and consists of a Prism view outdoor video wall digital signage. It gets powered by the Christie® Spyder X80 multi-window processor, which controls the unique number of megapixel projections going beyond 11 million at One Times Square.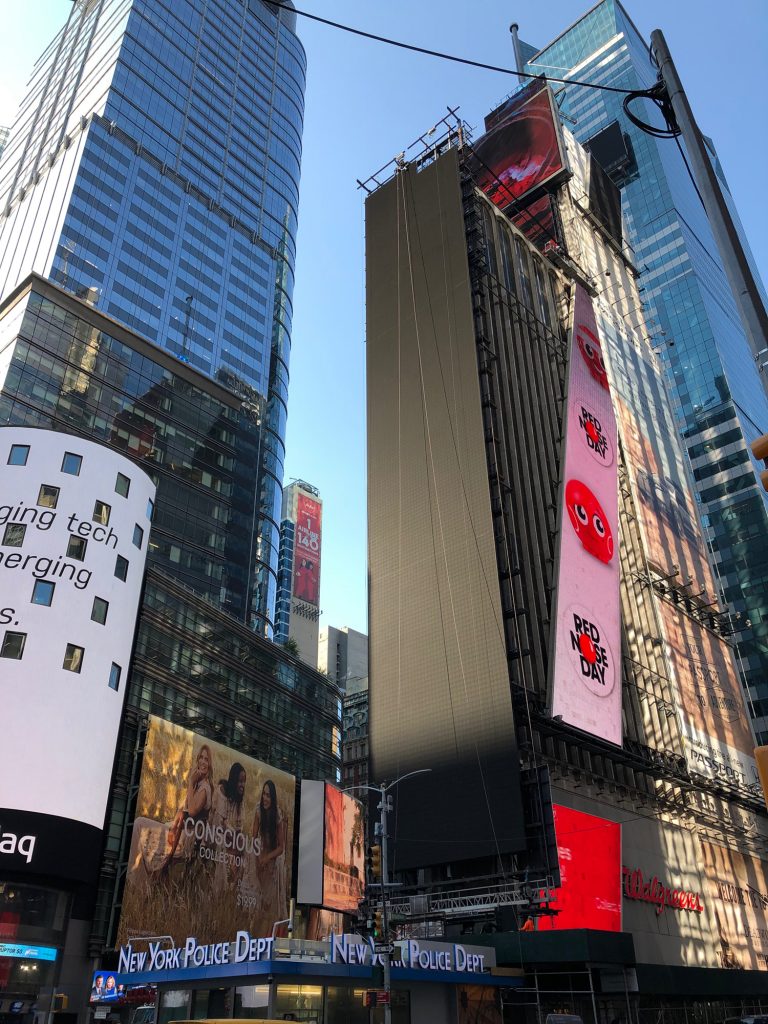 Having a notable video wall digital signage, the unified north face possessed a crisp resolution of 7380 pixels high-by-1312 wide, along with a futuristic display of a single 8mm, which put back countless LED video wall screens to where they came from in the first place. Interestingly, three exclusive pre-existing LED digital wall displays are already present to accompany the new unified north-faced LED video wall. More accurately, the smaller screen is located at the lower end, which measures up to 10mm, while the two present above size over 16mm. [2]
The Largest Outdoor LED Screen in the Philippines
The GA Tower, is a famed landmark architecture situated on EDSA Avenue in Manila, Philippines. Following the functionality of the dual-purpose building, the eye-catching O-H2550E LED video wall favored the modern style digital wall displays and the brand marketing commercials' smooth running.
To keep these two powerful functions performing concurrently without intruding on the twin tower's affecting the indoor lighting, the video wall digital signage was set up with a lightweight framework, high brightness and energy-saving capacity, clarity of around 72%, and advanced environmental adaptability features.

Thanks to these smartly hand-picked technology traits, the digital wall displays of O-H2550E can project luxurious and elegant images with a remarkable finish that's equally detailed during both the day and night. In short, the 2260m2 massive outdoor LED video wall screen designed by the GA Tower's Creative Head – Chau Ming – has turned out to be the largest outdoor LED landmark display in the Philippines and even in the entire Asia Pacific territory. [3]
Requirements and Trends for Landmark Displays in the Future
Digital wall displays have given every business, organization, and educational institution a strong communication channel through which the limited audience range has converted into a worldwide stage of advertising competitions. On the one hand, where these large pixel panels are promoting brand commercials through entertaining videos, on the other hand, these video wall digital signage have also updated the natives with dire emergencies that might come in handy in saving a life.
It fascinates people about LED video wall screens while connecting them to their idol's current movement or telling them their favorite brand offers. It can also learn about disaster situations worldwide, including in your region. Now, since technology evolves as per the demands of people, that's where the landmark trends of digital wall displays will be leading us in the future.
Undoubtedly, the video wall digital signage constitutes the most prominent fraction of the industry. Hence, the future LED video wall will lean more toward achieving the larger screen size, along with the higher resolution ranges of flat display panels that express stunning graphics with a mix of innovative and creative vibes for advanced branding and other marketing strategies.
Significant Effects of Digital Wall Displays as Landmarks
Impressive digital wall displays as landmarks can leave marked impacts that translate into two things. Firstly, the striking graphics of unique screens like the Samsung LED video wall makes it lavish enough to be identified to discover new places. Secondly, the tourists learn about the breathtaking sights of huge digital wall displays that allure them towards aesthetic features and make it impossible for them to pass by without gazing at displays with startled eyes.
Aware of the landmark importance, iDisplay's launched a powerful and versatile LED video wall as an ultimate commercial advertising display solution – Tetris p2.5. Competently, it can modify to form more than 90% of indoor LED display projects that serve well applications like stadium broadcast, retail, transportation hub, hotel and resorts, art galleries, and such.
Practically, the versatility of these digital wall displays adds up to the flexible nature and makes them compatible with almost five kinds of pixel pitches, five kinds of panel sizes, and numerous shape variations, involving flat, concave, convex, cubic or cuboid, and column LED video wall screens for outstanding and desired outcomes. Thus, if you want to decide which digital wall displays might be the right one for you, then iDisplay's Tetris p2.5 is your best shot.
About iDisplay's Tetris
Some of the outstanding features of Tetris include:
Light & Slim
The chassis is thin but strong, and the cabinet weight is 9.7kg, while the thickness is 4.3cm.
Flat Wall-mounted
"Tetris" is a flat wall-mounted product that allows structure-free installation on a concrete wall or wooden wall, especially for a LED wall of less than 10m2.
Panel Size Available
Five different kinds of panels allow for extensive flexibility in any dimensions and various applications like retail, transportation hub, hotel, resort, stadium, broadcast, visualization center, art gallery, etc. The available size includes: 500*1000mm/500*750mm/500*500mm/500*250mm/250*250mm.
Easy Maintenance
With captive screws on each side, we can assemble panels together in a fast and effective way. And you can take modules and all parts in front side easily.
Feedback
Tetris is commonly applied in retail and shopping mall, and it's well-received by customers. Below is the case of Tetris indoor P2.5 in a shopping mall. Tetris needs high precision, good flatness, and high definition in this project. The two screens have two brightness requirements, namely 800nits and 3000nits. Besides, wall-mounted displays need to be light and fast to assemble.
Since our customer Hugo wants to use it before they open the new store, we help customers to arrange the air shipment to meet the deadline. The customer is very happy with our service as our technical engineer was standing by during 2 days' installation and giving reliable support on installation and commission.
And here is another case of the iDisplay's P2.6 immerSiv pro application. ImmerSiv Pro is applied to The XR screen studio; with smooth equipment debugging communication process, it can start shooting within 2 weeks.
The project was set in South Africa; we worked with the Novastar team to do all configuration and commission to make sure all frame rates worked. Customers were going to use it for training and film production. The stacking system is the best solution on the market, and customers are very happy with it besides the LED performance and color accuracy.