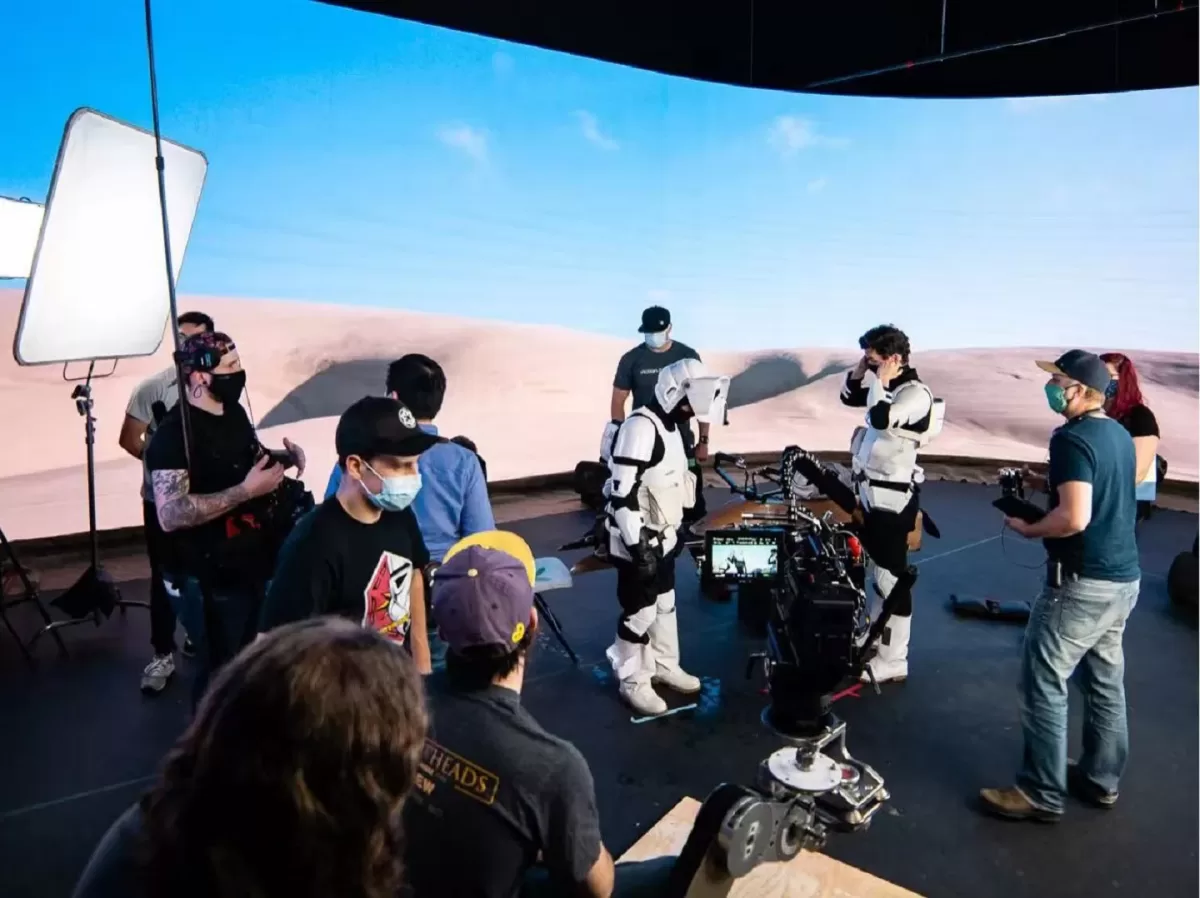 The use of virtual LED technology has skyrocketed its demand to much extent in modern times, not to mention extended reality. According to the statistics, more than 60% of respondents believed extended reality, a new and fascinating technology discussed by the masses worldwide, will be mainstream in the following five years.
But here, it raises an important question, what is extended reality, and how does it help us?
This article will help you figure out this question and discuss how extended reality benefits us and changes the future. So let's read ahead to learn more.
What Exactly Is Extended Reality?
Extended reality is a technology that uses a display that is an amalgamation of augmented reality (AR), virtual reality (VR), and mixed reality (MR). All XR technology immerses users in the virtual environment by modifying the human to PC screen interface. Immersive technology extends the reality we experience by either creating a fully immersive experience or blending the virtual and "real" worlds.
In order to obtain an explicit picture of extended reality, let's discuss each of the existing technologies in the world.
Virtual Reality (VR)
Virtual reality is a simulated 3D world that offers an interactive virtual gaming experience. It uses digital technology and reality headgear to produce real-world audio, visuals, and other encounters that emulate a real-world environment or create an artificial world.
Augmented Reality (AR)
Unlike virtual reality, augmented reality is a real-time, implicit, or explicit view of a physical, real environment whose features are heightened by computer-generated input such as audio, video, and visuals.
Mixed Reality (MR)
Mixed reality refers to merging the real and virtual worlds to create new environments and representations in which virtual objects and physical coexist and interact directly.
How Does Extended Reality Benefit Us?
As we have a comprehensive understanding of extended reality, the next thing is to discuss how it benefits us. Extended reality has been at the forefront for quite a long period, and it is slowly making its way into our lives. The features and benefits of extended reality become more apparent as it significantly brings people into a new world.
Features of Extended Reality:
Extended reality can eliminate remoteness barriers as it distributes the operations geographically. The following are the functions of extended reality:
1. It immerses you in a digital environment.
2. It allows you to interact with the physical as well as the virtual environment.
3. XR technology brings tremendous experiences to the entertainment world by offering users the opportunity to virtually experience live music.
Merits of Extended Reality
Extended reality does not only enhance user experience but also is beneficial for businesses. Organizations that incorporate extended reality into their businesses get benefits such as:
1. Extended reality allows companies to provide users to experience a different reality without leaving the comfort of their homes.
2. It provides a more realistic display of the subject.
3. In the film industry, XR studios and the XR stage have eliminated the use of green screens, and on-location shootings can also be skipped to some extent with the help of extended reality.
4. Some organizations use extended reality to train employees to boost employee engagement and retention.
Future of Extended Reality
The outstanding features and benefits of extended reality will bring a bright future for XR. XR is now being used in various industries, including manufacturing, retail, human resources, and gaming. In addition, we're witnessing AR, VR, and MR in our lives under the umbrella of XR, with more implementations on the way. The following aspects will help you clarify the future of extended reality.
Size of Extended Reality's Current Market Size
According to Market Research Future (MRFR), the global extended reality market is expected to reach a market size of USD 393 billion and grow by at least 69.4 percent by 2025.
The market for extended reality is expected to grow in the coming years, and with that comes many real-world applications of extended reality technology.
1. Broadcast
With the help of extended reality, broadcasting live productions of events and next-gen processing for films allows studios to overcome location barriers by creating a virtual setting according to your requirements. For instance, iDisplay, an expert in providing various types of LED screens, applies its XR virtual LED in virtual broadcast production and wins huge appreciation among the public.
2. Film Production
Extended reality is now heavily incorporated in the film-making industry as XR virtual LED has replaced green screens. Moreover, it has made camera tracking and created an immersive environment that makes the whole production convenient.
3. Virtual Event Stages
A group of people can come together virtually for live streams, running prerecorded content, or live chats. It combines augmented reality, virtual reality, and mixed reality, which creates an extended reality environment delivering an outstanding experience to the viewers.
4. Corporate Events
Nowadays, an increasing number of companies are using XR as a new and effective method to address problems around distance. For example, the organizer uses extended reality to create a much more engaging experience for participants and presenters in virtual meetings, conventions, and even product launches.
5. Education
Extended reality, an advanced technology, can immerse students into realistic scenarios. It will bring much convenience to students to learn in a stimulating virtual environment.
6. Live Music
With the help of XR, artists can perform live music videos in real-time. XR technology provides artists the possibility that they can use generative content engines to create video narratives in real-time. Not only that, but it brings the audience to a new world beyond the physical LED walls.
Why Is Immersive LED Panel More Important Than Green Screens in XR Studios?
As we have discussed plenty of benefits and the future of XR technology, some people still wonder why immersive LED panel is more important than the green screen. Although green screens are widely used in XR studios, they have recently been replaced by LED panels which offer far better technologically advanced features like:
1. Capturing VFX in-camera: directors can see the whole picture live on set and make adjustments in real-time through XR virtual LED. On the contrary, the green screen will affect actors' performance because they are performing in front of a plain solid color!
2. Efficient time management on set: XR virtual LED helps the compositor obtain the desired stage before the shooting, which means any questions or problems with the set could be fixed on the spot. Whereas, in green screens, people need to wait more than one month to see the final result.
3. Adjust the brightness: XR virtual LED surpasses the green screen with the ability to adjust the brightness. It successfully solves the problem brought by the green screen that the light is fixed. XR virtual LED enhances the work efficiency of the post-production without light reflection.z
4. Provide realistic background: Green screens really affect the performance of the actor to much extent. It is because the actor is performing in front of a plain solid color, which increases the difficulty of performing well. However, XR virtual LED enables the performer to act in a desired and virtual background, which enhances the performance of the actor.
There are additional features about LED panels like shorter post-production time, immersive experience, and reduced time pressure on the set. Due to its significant benefits, XR technology is becoming popular worldwide.
Where to Find the Best XR Virtual LED Provider?
Since XR has so many real-life applications, you must be wondering where you could find the best XR virtual LED provider. The market is saturated with LED display manufacturers that promise outstanding results, but since we believe in quality, iDisplay's products are the best in the market.
ImmerSiv Pro, an excellent virtual production version from iDisplay, meets the requirement of XR stages and studios. With the help of our product for virtual production, a copious number of people obtain a pure image and immersive experience. Following are some of the significant benefits that our product offers:
1. It allows you to experience a smooth visual display with perfect in-camera performance.
2. It is a universal module that is flexible for different pixel pitches and 2 kinds of led panels, including 500*500mm and 500*1000mm.
3. It is with powerful functions compared with other similar products.
4. Its smart latch is easy to install and requires low labor costs during installation and maintenance.
5. It is strong enough to bear the weight of more than 20 panels during hanging installation, and the led panel has no break under the 2.2 tons pull test.
6. It provides a smooth connection for flat and curable led display.
7. It provides you multiple HD LED display resolutions, high-performance, different frame rates including 24Hz, 30Hz, 48Hz, 60Hz, 72Hz, and 144Hz, etc., and a high refresh rate 7680Hz.
All in all, though the extended reality is a trendy buzzword in the tech space, it's progressively making its way into businesses. If you are in the market to find the most reliable XR virtual LED provider, iDisplay is the best one that you can't miss. We at iDisplay are constantly dedicated to providing high-quality XR virtual LED panels to customers, and the huge sales worldwide are sufficient to prove our capability and superiority. If you are enthusiastic about our products, please get in touch with us immediately. Our professional sales team is ready to assist you with any questions!